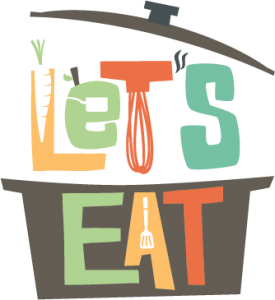 Would you like your family to be healthier and happier?
Are you tired of having to come up with something in the kitchen and don't know where to start?
Would you like to find a way to help your kids grow in confidence and get involved in mealtimes more?
Then Let's Eat could be of help to you and your family. We can help you make some simple but practical changes to the way you and your family eat together.
'Modern life' is different to how it used to be. We're a lot less active and much more time pressured. There's TV, computer games, microwave meals and fast food. We have so many time commitments that more and more of a family's daily food intake revolves around on-the-go snacks, takeaways and fast food with everybody eating separately at a time convenient to them. Preparing a meal can seem daunting for many nowadays and families have forgotten what it's like to sit down together. Many children don't know how to lay a table or use a knife and fork.
It really affects us
This change in the way families fuel themselves affects many things, and not just our physical health and nutrition either. Mood, energy, behaviour, growth, even our ability to concentrate are negatively impacted by increased junk food and the additives that make convenience meals so quick to get from freezer to stomach.
How we eat as a family is equally as important too. The amount of face-to-face time young people have with the rest of the family group has a huge impact on their mental health. This is because meal times eaten together on a daily basis become a key place for children to connect together with parents and each other. It's a place where they learn to listen to each other and also voice what's going on with them.
What you can do
Cooking food together can make a big difference. It makes food fun and involving young people in food preparation has been shown to improve their overall diet quality, their confidence and increases their ability to make good food choices. Learning to chop a fresh onion that will go into making the delicious homemade soup you're about to sit down and eat together teaches our kids vital life skills and will help them make better food decisions for the rest of their lives. But it also means they've had time in the kitchen, away from video games or social media, excited to be learning anew skill and engaging about their day. All of this has been shown to reduce stress levels in young people and nourish them as a whole person, not just their physical bodies.
It's time to bring our family food culture back. You can start making this happen simply by making your dinner time a time for sitting down together to eat and chat. You can also join us at Let's Eat. We run free courses that meet once a week with a small number of families where you will learn how to:
Budget and buy ingredients for family meals

Prepare a range of easy and fun homemade meals
Get your kids on board with practical stuff like cooking and laying a table
Use the daily meal time as a key place to connect with your family

Learn how to negotiate food refusers, picky eaters and kids that would rather be doing something else.

Make simple changes to the way you talk together that improve your kids' mental health
All courses are run by experienced health care professionals who also happen to be fully qualified mum and dads in their own right and know first-hand that meal times aren't always easy. Courses are designed and implemented by a trainee Health Psychologist (BPS registered).
Come and join us!